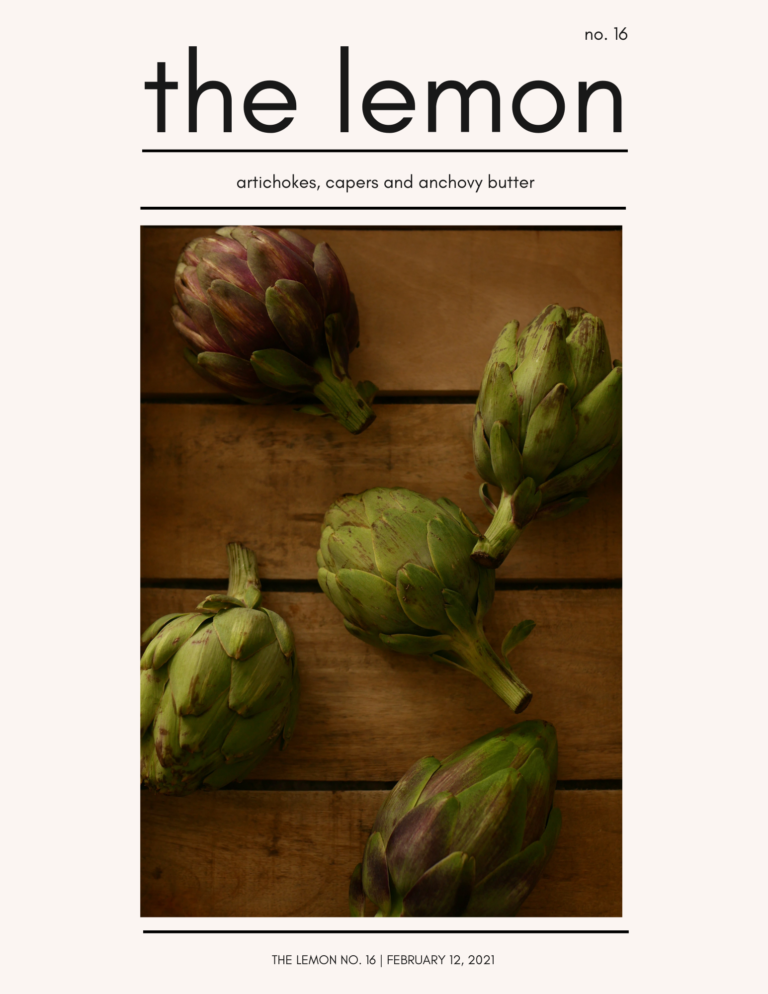 Artichokes and Some Other Things
Prepping artichokes is kind of a pain.  I know, I'm really selling this recipe to you straight out of the gate but give me a minute to explain.  I had initially planned to make something else for this week's Lemon but when I was at the grocery store the other day I saw these beautiful little artichokes and totally changed my plans. 
Our local grocery store is a really interesting place, the owner is pretty well always at the store working and it's easy to tell that he cares deeply about the food they stock. They order in a lot of more uncommon ingredients (for grocery stores in our area at least) and always have a huge array of different types of flour, cheese, vegetables and fruit.  I usually can't find things like figs or prickly pears anywhere else but they always seem to have them or something equally interesting in stock.
So, the other day when I went in and there was a whole section of artichokes I had to buy some.  I haven't cooked artichokes in a long time and thought it would be something interesting, albeit somewhat time consuming to share. 
There are a few methods of prepping artichokes, this is one of them but if you're interested in some others there are lots of great tutorials on Youtube.  Jaques Pepin has a particularly good one if you're interested. 
If you want to try something new and you're up for a bit of a challenge as it can sometimes feel like you're prepping some type of otherworldly dragon egg, then give it a go.  If this much prep isn't your thing, canned and jarred artichoke hearts are perfectly good.  In fact, 9 times out of 10 I would use and prefer to use canned artichokes in a recipe. The below recipe is just something fun (and really delicious with the anchovy butter if I do say so myself) to do if you find artichokes in your local store and are looking to try something a bit different.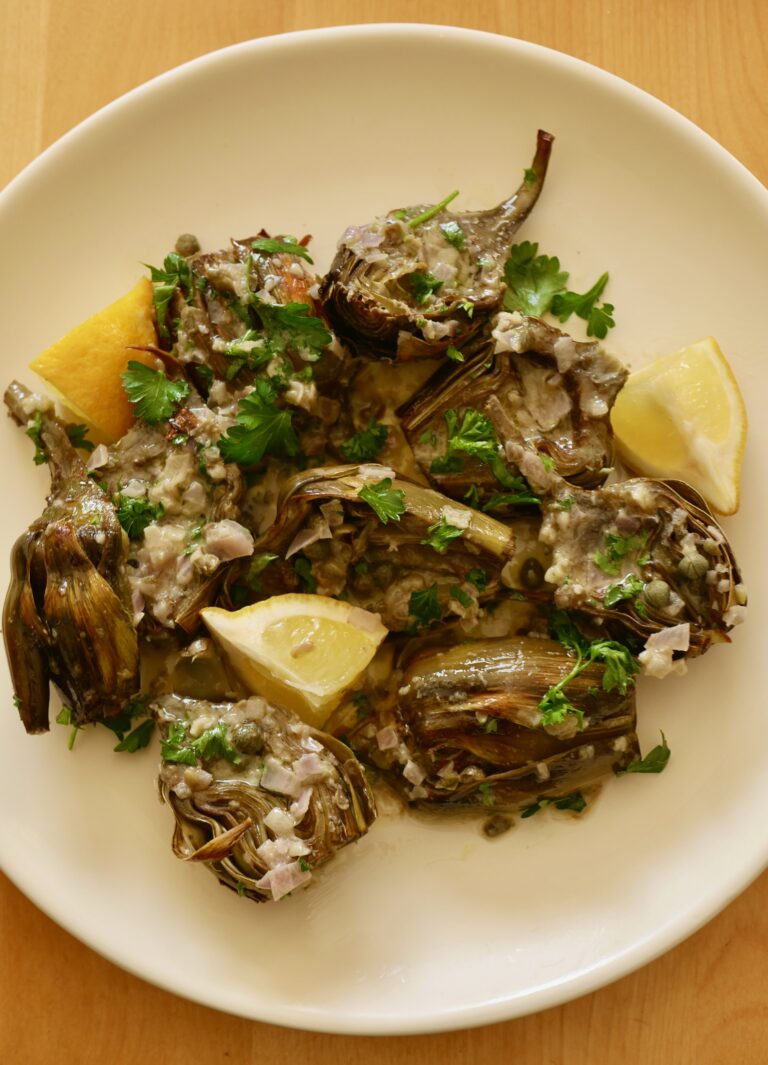 Artichokes, Capers and Anchovy Butter
INGREDIENTS
Roasted Artichokes:
3 large or 5 small artichokes
Oil
Salt
Anchovy Butter
1/2 cup (113 g) butter
2 tbsp shallots, chopped (about half a shallot)
2 tbsp capers, chopped
2 tsp anchovy paste or two anchovies
Garnish:
Chopped parsley
Lemon wedges
Whole capers
METHOD
Artichoke Prep:
Peel off the tough outer leaves of the artichokes, this is usually about 3-4 layers of leaves which might seem a bit excessive but those outer leaves tend to be too tough and dry to eat.
Use a small knife to gently peel lower portion of the artichoke and stem to reveal the lighter green flesh.
Then, trim off about an inch from the top of the artichoke. This should remove any of the remaining upper inedible portions of the leaves.
Cut the artichoke in half and use a spoon to remove the fluffy bits and the small, tough, purple leaves that surround it in the very centre of the artichoke.
Place each artichoke half onto a separate small piece of aluminum foil, drizzle with cooking oil and season with salt. Wrap up the the artichoke half with the foil and place in a roasting tin. Repeat with the other portions of artichoke.
Roast the artichoke halves at 400 F (200 C) for 40 minutes until fork tender.
Anchovy Butter Prep:
In a small pot, melt the butter then toss in your chopped shallot, chopped capers and 2 tsp of anchovy paste. You can use two anchovies instead, they're so soft they will just dissolve into the butter on their own so no need to chop them up. Let simmer gently for a few minutes on medium low.
To Serve:
Remove the artichokes from their aluminum foil packages and serve either in the pan or on a plate. Spoon over the anchovy butter. Top with whole capers, roughly chopped parsley and serve with a few lemon wedges.
To eat you can peel off any slightly tougher outer leaves with your fingers and almost like the leaves are a little spoon, use your teeth to get the soft part from the bottom of each leaf. You can dunk the leaves in the anchovy butter and spoon them into your mouth.
The centre portion and stalk are entirely edible and should be soft and easy to eat.