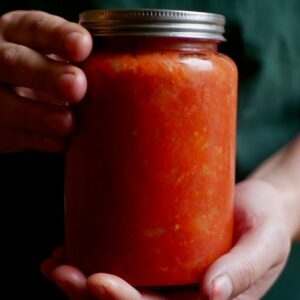 Basic Tomato Sauce
Inspired by a quote I read by Missy Robbins on Italian food recently, I wanted to make one of the most simple but delicious recipes I know; basic tomato sauce.
Ingredients
3

medium, white onions, small diced

1

bulb garlic, minced

4

cans

san marzano tomatoes

salt to taste

olive oil
Instructions
Sauté onions in olive oil until soft

Add in minced garlic and stir quickly

Immediately add in canned tomatoes

Let cook down for 30 minutes to an hour on low until flavourful. Salt to taste.
Video
Notes
Everyone has their own way of making tomato sauce which I think is incredibly important. If all our food was the same well, where's the fun in that? This is my favourite way of making it. I first had this sauce when I was working for an incredibly talented Chef who trained in Italy after fleeing his home country as a refugee. Later, he went on to open some of the most successful restaurants in Toronto. I'm forever grateful for everything he has taught me over the years and this recipe is one of those things. I hope you enjoy.