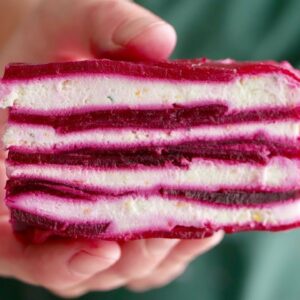 Beet Terrine
This beet terrine recipe takes a little while to make and assemble but if you follow the steps correctly it only takes a few ingredients and the results are really stunning. I started off by boiling some beets until tender, peeling them, slicing them using a mandolin though you could easily use a nice sharp knife. I then whipped some goats cheese with some lemon and orange zest, and juice and a little bit of thyme to spread between each layer of beets. I've given basic amounts but most of this should be done to taste.
Ingredients
5

beets

1/4

cup

salt

1/4

cup

sugar

600

g

soft goats cheese

zest and juice of one orange

zest and juice of one lemon

1

tbsp

chopped thyme
Instructions
Wash beets and boil with salt and sugar until tender. Peel beets then use a mandolin to slice them thinly.

Season beet slices with olive oil and salt.

In a mixing bowl add soft goats cheese, orange zest and juice, lemon zest and juice, chopped thyme and mix. Add salt to taste. Place cheese mixture in a piping bag

Line a terrine mold or load tin with cling film. Place a layer of sliced beets in the bottom of the tin, then pipe on a layer of the goats cheese mixture, levelling it out with a small off set spatula.

Cover the cheese with another layer of beets and repeat the process until your terrine mould is filled. Wrap the top of the terrine in more cling film then add weight to the top to press down for a minimum of 4 hours. Once set, remove the terrine from the mould and use a sharp knife to slice, cleaning the knife between each slice.
Video