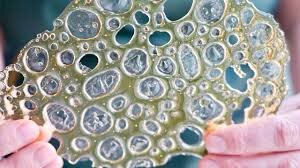 Bubble Sugar Tuile Garnish
Crispy, easy and beautiful sugar tuile garnish.
Instructions
All you need to make these bubble sugar tuiles is glucose. Spread the glucose thinly on a silpat and bake at 300F for 20-30 minutes. Add colour if you want or leave them clear. The longer you cook them the darker they become but if you hit the sweet spot with your oven and timing you can get perfectly clear tuiles.
Video