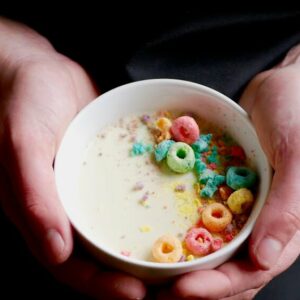 Cereal Milk Panna Cotta
Here's a recipe for cereal milk panna cotta. I made a few adjustments to the original recipe but this technique was made famous by Christina Tosi of Momofuku Milk Bar. She typically uses corn flakes but I wanted to use fruit loops because of the nostalgia tied to fruit loops for me. I wasn't allowed to have sugar cereal as a kid so when I got fruit loops it was like a really special treat.
Ingredients
500

ml

cream

500

ml

mik

100

g

cereal of your choice

150

g

sugar

10

g

platinum grade gelatine sheets
Instructions
Place cream, milk and cereal in container to infuse at room temperature for 20 minutes. Once infused, strain out the cereal and pour the cereal milk mixture into a pot. Heat until simmering then remove.

Add in bloomed gelatine (which you will have bloomed for five minutes in cold water) and whisk gently to combine. transfer the panna cotta to small bowls or ramekins and refrigerate for 1-2 hours until set. Serve.
Video