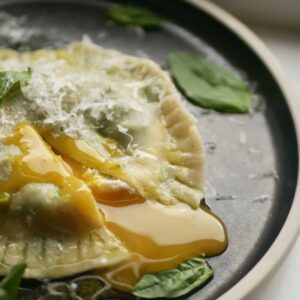 Egg Yolk and Ricotta Stuffed Ravioli
A runny egg yolk and roasted garlic and ricotta filling encapsulated in sheets of beautiful herb laminated pasta.
Ingredients
Herb Laminated Pasta Dough
2

cups

All purpose flour

3

Whole eggs

1

tbsp

Olive oil

1

tsp

Salt

Fresh parsley

Fresh basil
Roasted Garlic and Ricotta Filling
1

head

Garlic

2

tbsp

Olive oil

1

tsp

Salt

2

cup

Ricotta

Salt and Freshly Cracked Pepper to Taste
Garnish
Grated Parmigiano Reggiano

Olive Oil

Fresh Basil
Egg Yolk and Egg Wash
Egg yolks

1 per ravioli

1

Whole Egg

2

tbsp

Water
Instructions
Herb Laminated Pasta Dough
On a clean work surface, dump out two cups of flour and create a well in the centre

Crack in your eggs, pour in your olive oil and then add in your salt

Then, use a fork to whisk this all together.

Begin to slowly whisk the flour in from around the sides of the well until the dough is thick enough to be worked by hand. Knead for about ten minutes until the dough goes from looking shaggy and rough to smooth and taught and a finger pressed into the surface of the dough springs back.

Cling film and set aside for 30 minutes to rest at room temperature. Once rested, unwrap and cut the dough into the portions.

Roll out each half of the dough into long, thing rectangular sheets of pasta . One on of the sheets, gently place your pieces of fresh basil and parsley, then cover with the second sheet of pasta and roll out until thin and transparent enough that the herbs can be seen through the dough with ease.

Use a round cutter to cut out circles of dough for the ravioli.
Roasted Garlic and Ricotta Filling
Cut the top portion of a whole head of garlic off to reveal the cloves inside. Place this on a sheet of aluminum foil and drizzle with your olive and a sprinkle of salt. Wrap up and roast at 180 C (350 F) for 20-30 minutes

In a bowl, combine your ricotta with the soft, roasted garlic then season the mixture with salt and freshly crack black pepper.

Transfer this mixture to a piping bag and the pipe onto half of the rounds of pasta. Pipe it so there is space in the centre of for the egg yolk.
Finishing Touches, Cooking and Garnish
In the hollow space in the centre of the ricotta filling, tip in an egg yolk. Repeat for the other rounds of pasta with the ricotta filling.

In a small bowl mix your egg wash up by whisking together a whole egg and two tbsp of water. Brush this around the edges of your ravioli.

Cover each filled round with another round of pasta and then seal with a fork. The, cook in salted boiling water for 3 minutes.

Serve with a good drizzle of olive oil, some grate parmesan and some fresh basil.
Video