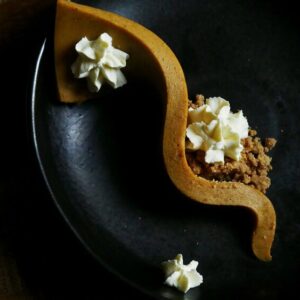 Flexible Pumpkin Pie
A unique way to change up the autumnal classic, pumpkin pie.
Ingredients
200

g

pumpkin purée

200

g

cream

45

g

golden syrup

1

tbsp

pumpkin spice

35

g

dark brown sugar

1.5

g

agar agar

200

g

white chocolate

12

g

(4 sheets or 8 half sheets) gelatine
Instructions
In a bowl of cold water bloom 12 g of gelatine. In a separate bowl place 200 g chopped white chocolate or white chocolate buttons and set aside. In a pot, combine, cream, pumpkin puree, golden syrup, pumpkin spice, dark brown sugar and agar agar powder. Heat on medium low stirring constantly until the mixture has come up to a boil for a minimum of 1 minute. It must boil or the agar won't properly set.

Once the gelatine has bloomed (takes about 5 minutes), squeeze out the excess water and add to the white chocolate. Pour the hot pumpkin mixture over this and stir with a spatula until white chocolate and gelatine are melted and combined and the mixture is smooth. I've done this before using a stick blender and I find that it creates a lot of bubbles in the final product, I wanted this to be denser and more pudding like.

Once the mixture is totally smooth, pour it into an online baking sheet or tin and set in the fridge. It takes about an hour or so to set if it's thin and you can tell when it's done setting by touching it gently with your finger or giving the tin a jiggle.

Cut into strips, use cookie cutters or slice into little triangular pie shapes like I've done here. I served mine with some crushed up pie crust crumble and whipped cream though you can serve yours however you want.
Video
Notes
Credit where credit is due:
This recipe was inspired by Alinea's famous Flexible Ganache recipe which I have demonstrated before on this channel. Please check out their socials and website here: https://www.alinearestaurant.com/ @thealineagroup