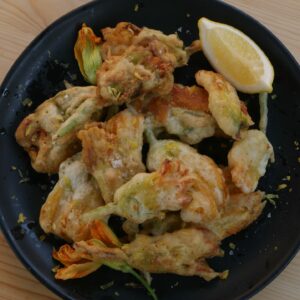 Fried Squash Blossoms
Fried squash blossoms are one of my favourite summer time snacks. Stuffed with mozzarella, battered and fried until crisp, these things are ridiculously delicious. If you've ever wondered what they are eating in the Attraversiamo scene in Eat Pray Love, this is it. If you can get your hands on some blossoms, these things are really as delicious and decadent as they look in the film.
Ingredients
Batter
180-200

g

flour

1

can

carbonated soda

1/2

tsp

baking powder
Blossoms
squash blossoms

mozzarella
Topping
flakey salt

lemon zest and juice
Instructions
I'm using two different sizes of flowers for this, these smaller ones are from zucchinis and these larger ones are from pumpkins.   

You can cook and eat the whole thing, stem, leaves, and flower but I like to remove the stamen or pistol which is just the little centre part of the flower. Just reach into the flower and pull it off like so.

Get the flowers into a colander so you can give them a good wash before cooking.  Bugs really seem to like to hide inside the blossoms.

Once washed, place the squash blossoms on a tray lined with paper towel to dry. 

I'm cutting some mozzarella to use inside the blossoms but really, you can use whatever type of cheese you like.  Again, this recipe is relaxed and doesn't have to be super prices or exact. 

Take the pieces of cheese, and place them inside of your squash blossoms.  You can use one of the little petals to tuck it in securely like I'm doing here but if your flowers are small, not to worry, the batter will keep everything in. For the batter, you'll need all purpose flour, carbonated water, salt and baking powder. 

I'm using about a cup and a half of flour, so about 180-200 grams. For this amount I used one can of carbonated water. Then I added in a good pinch of salt, and a 1/4 tsp of baking powder.  Should I have added the salt and baking powder in before I added the soda, yep, probably, but I forgot.  Oh well.  

Whisk that all up and ideally, what you want is for it to be about as thick as sour cream.  The batter should be thick enough to hold together but also needs to be loose enough that the delicate flowers can be dragged through without ripping. If it looks like this, kind of like sour cream or creme fresh, you're good to go. 

To fry, get about half an inch of neutral oil with a high smoke point into the bottom of a pan with high sides and set up your frying station.  So, I have my stuffed blossoms, batter, frying oil, and then a tray with a wire rack for the finished blossoms which doubles as a lid for the pot, in case of emergency.  

Heat your oil on medium heat and to test if the oil is hot enough to fry, I just dip a tooth pick into my batter and drop a little into the oil.  Here it was still too cold.  And here, when it starts to bubble and float, it's ready. Dip the flowers into the batter, wipe off the excess on the side of the bowl and place gently into the oil lying it away from you so the oil doesn't splash in your direction.  

After about a minute or two when the outside gets crisp and golden, flip the blossoms and cook on the other side.  Immediately after the blossoms come out of the oil, sprinkle them with some flakey salt.  To serve, I like to top mine with a bit of fresh lemon zest and a squeeze of lemon juice.  
Video