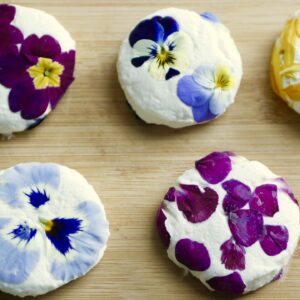 Homemade Goat's Cheese
Want to know how to make goat's cheese at home? It's easier than you might think. All you need is goat's milk, lemon juice and a little bit of time and you're left with a beautiful spreadable chèvre style goat milk cheese. I rolled mine in these beautiful edible flowers but you can serve your plain or roll it in chopped nuts, cranberries or mixed herbs.
Ingredients
1

L

whole goat's milk

3

tbsp

(40 g) fresh lemon juice

salt to taste
Instructions
Heat your goat's milk on low until it reaches 180 F ( 82 C). Remove from heat once it comes to temperature and stir in 40 grams of lemon juice. The curd and whey will separate as you stir. Leave to rest for 15 minutes then strain though two sheets of cheese cloth placed in a strainer. Allow to sit for a minimum of 1 hour for a soft and spreadable cheese or place in the fridge to drain overnight for a firmer more crumbly goat cheese. Serve as is or roll in fresh flowers, herbs, chopped nuts, or chopped dried fruit.
Video