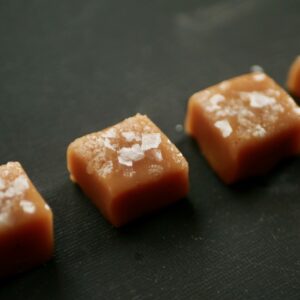 Homemade Salted Caramels
Wondering how to make homemade salted caramels? It's not as complicated as you might think and the results are a super creamy, buttery candies. These caramels are nothing like those awful hard caramels you get at halloween. Soft, flavourful and they don't stick to your teeth.
Ingredients
120

ml

Cream

113

g

butter

200

g

sugar

60

g

corn syrup

1

tbsp

water

flakey salt
Instructions
Line a loaf tin with parchment or tinfoil. Spray the lining liberally with non stick cooking spray and set aside.

In a small pot combine the cream and butter. Heat this over medium low until the butter is melted then remove from the heat and set aside.

In a separate larger pot, add in the sugar, corn syrup, and water. Get this over medium heat and heat without stirring. You can swish the sugar around in the pan gently but try not to stir as this can cause the sugar to crystallize.

Heat until the sugar starts to become a light amber colour and reaches 162 C (320F).

Then, stream in the warm butter and cream mixture slowly. It will bubble up and then fall back down slightly (this is why it's important to always use a larger pot that you would normally for caramel). Now, you'll want to heat this until it reaches 118C (245F).

Remove the caramel from the heat and pour into the lined loaf tin. Allow to cool for 5 minutes before topping with some flakey sea salt. Set aside to cool completely.

Once cool and set, remove the caramel from the tin and cut into portions.
Video