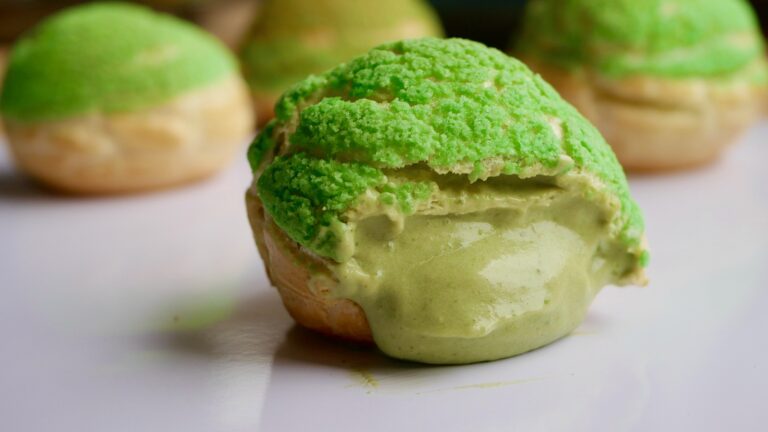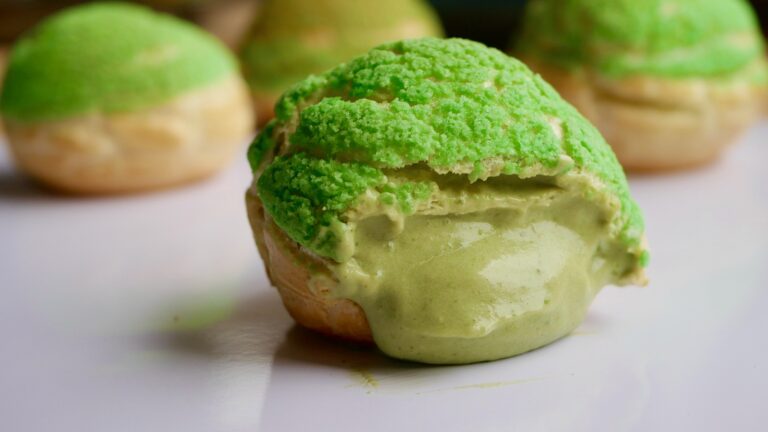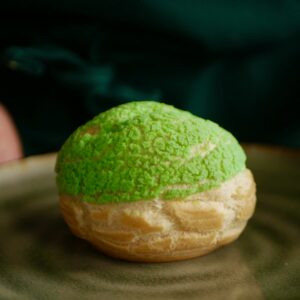 Matcha Choux au Craquelin
Crisp on the outside, light on the inside and filled with a delicious matcha and vanilla pastry cream.
Ingredients
Matcha Pastry Cream
3

egg yolks

75

g

(1/3 cup) sugar

30

g

(3 tbsp) corn starch

2

tsp

matcha green tea powder

250

ml

(1 cup) milk

1

tbsp

vanilla
Stabilized Whipped Cream
1

tsp

gelatine

2

tbsp

water

250

ml

(1 cup) whipping cream

75

g

(1/4 cup) icing sugar

1

tsp

vanilla
Craquelin Topping
100

g

(1/4 cup) butter

100

g

(1/2 cup) sugar

100

g

(2/3 cup) flour

green food colouring
Choux Pastry
236

g

(just under 1 cup) water

115

g

(1/2 cup) butter

1/2

tsp

salt

145

g

(just under 1 cup) flour

4

large eggs (about 200 g)
Instructions
Matcha Pastry Cream
In a bowl, combine egg yolks, sugar, corn starch and matcha green tea powder and whisk. The mixture will look dry and lumpy at first but keep mixing and the corn starch will absorb the moisture and the mixture will become more liquid again.

In a pot combine the milk and vanilla and get over medium heat until just barely simmering.

Then, slowly pour the warm milk into the matcha and egg mixture, whisking continuously to combine. This will temper our egg mixture so that the eggs don't scramble.

Once all of the hot milk has been whisked in, pour everything back into the pot and get it back on low heat, stirring constantly.

Cook and stir until the mixture is thickened which is around the time the first bubble appears under the surface.

Once thick remove from the heat immediately and stir in the butter.

Strain the pastry cream through a sieve into a separate bowl.

Press some cling film firmly against the pastry cream to prevent it from forming a skin and then place the bowl of pastry cream in the fridge to cool.
Stabilized Whipped Cream
In a small bowl or container, bloom your gelatine powder in 2 tbsp of cold water. Set this aside for 10 minutes.

Add your whipping cream to a mixing bowl and whisk until light and fluffy.

Add your icing sugar and vanilla to the whipped cream and whisk to combine.

At this point, take your bloomed gelatine and get it in the microwave for about 20 seconds to melt. Leave this to cool slightly so it's about room temperature then slowly stream it into the whipped cream while whisking.

Once this is thick and fluffy, fold it into the cooled matcha pastry cream in three additions trying to keep as much air and lightness in the mixture as possible. Add this into a piping bag fitted with a round tip.
Craquelin Topping
In a mixer fitted with the paddle attachment mix the softened butter and sugar until combined.

Once combined, add in the flour until the mixture forms a dough. Then, add in a squeeze of green food colouring and mix until combined.

Lay out a long piece of parchment and dump the craquelin dough on half. Fold the other half of the parchment over and use a rolling pin to roll out the craquelin until it is about 1-2 mm thick. Place the rolled out sheet of craquelin on a tray and place in the freezer until firm.

Once frozen, peel off the parchment and use a round cutter to cut out rounds of craquelin. Place the rounds on a parchment lined baking sheet and set back in the freezer.
Choux Pastry
Add the water, butter and salt to a pot then set over medium heat until the butter has melted.

Dump the flour into the pot all in one addition and use a wooden spoon to stir until it forms a cohesive dough. Stir this around for about 3-5 minutes to cook out some of the moisture then pull the pot off the heat and leave to cool for about 10 minutes.

Crack your eggs into a a bowl and whisk together. Then crack your eggs into the pot of dough in 4 additions, stirring to throughly combine between each addition.

We want the dough to be smooth and pipe-able but still hold its shape. You know the dough is the right consistency when you can run a finger through the top and it leaves a trough where the sides don't collapse inwards. Or when a spoon pulled out of the dough forms a triangle of dough at the base.

Get your choux pastry into a piping bag fitted with a round tip and pipe it out in round balls on a silpat lined baking sheet. You can make your choux smaller or bigger depending on your desired outcome. When spacing them out on the tray, keep in mind that they grow to be about 3 times their starting size.

Now get your frozen rounds of craquelin and place one on top of each choux.

Bake for 30-40 minutes at 375 F or 190 C
Assembly
Once your choux pastries are baked and cooled, use a small round piping tip to pop a hole in the bottom of each pastry. Then, get your piping bag of the matcha cream fitted with a round tip and pipe the cream into the choux pastries until the pastry is completely full. Set them back down on a tray and serve.

These last 1-2 days max but can freeze really well if you'd like to keep them longer.
Video