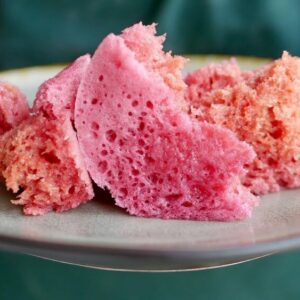 Microwave Beet Sponge Cake
Light and airy microwave sponge naturally coloured with beetroot.
Ingredients
150

g

egg (3 eggs)

75

g

all purpose flour

90

g

sugar

80

g

melted butter

25

g

beet juice

pinch of salt
Instructions
Combine 3 eggs, sugar, salt, and whisk to combine. Add in flour and whisk until smooth then stir in melted butter and beet juice.

Transfer to a whipping siphon and charge with 2 n20 charges.

Poke small holes in the bottom of a microwavable, disposable coffee cup. Coat with non stick spray and spray cake batter into the cup from the siphon.

Fill 3/4 of the way, microwave for 45 seconds to 1 minute.

Once cooked, flip the cup over onto a plate and leave for two minutes before removing the cup.
Video
Notes
This airy and spongey microwave sponge cake is made using a whipping siphon and N20. I decided to colour mine with 25 grams of beet juice but you can take this out and just add in a few drops of the food colouring of you choice. The whipping siphon and the microwave cooking technique make the texture of this cake super light and airy and give it almost coral like appearance. This is a really great molecular gastronomy technique for plating desserts, I've even seen people flavour this in a savoury way adding herbs and the like. Adding this to a plate really adds a nice element of both texture and visual interest. This microwave sponge cake recipe is also super fast to make. The batter requires ingredients you likely already have on hand.