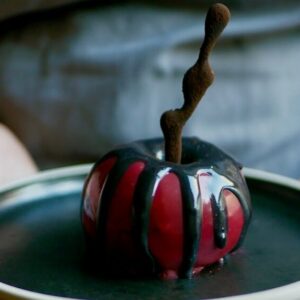 Mirror Glazed Apple Mousse Cake
Here's a more advanced recipe for a spooky apple Halloween dessert. It's made with cranberry, apples and white chocolate and then mirror glazed to give it a beautiful glossy shine. Perfect for Halloween, once you cut into the mirror glazed apples the bright red cranberry filling oozes out onto the plate. Spooky and delicious.
Ingredients
Cranberry Centre
2

medium sized apples, peeled and diced

200

g

sugar

500

ml

water

500

ml

cranberries
White Chocolate Mousse
350

g

white chocolate

180

g

cream

360

g

cream

1

tsp

vanilla bean paste

6

g

gelatine
Mirror Glaze
350

g

white chocolate

150

g

water

300

g

sugar

200

g

condensed milk

15

g

gelatine

gel food dye

activated charcoal powder
Instructions
Cranberry Centre
Simmer the diced apples, sugar, water and cranberries until soft. Use a hand blender to blitz until smooth.

Transfer mixture to to a pitcher or bowl with a spout so it's easy to pour. Pour into semi-sphere silicone molds and freeze until solid.

Once frozen completely you can begin your white chocolate mousse.
White Chocolate Mousse
Bloom 6 grams of gelatine in cold water.

Over a double boiler, melt together the white chocolate and 180 ml of cream.

Once melted remove from heat and mix in the bloomed gelatine. In a stand mixing bowl, combine the 360 grams of cream and tsp of vanilla bean paste.

Whisk until it reached soft peak stage.

Wait until the white chocolate and gelatine mixture comes down to about 33 degrees Celsius before folding the whipped cream into it in three additions making sure not to knock out too much air.

Transfer the white chocolate mousse to a piping bag and pipe into apple silicone molds. Pipe 75% of the way up so when you mush in the cranberry sphere it pushes the mousse all the way to the sides and up the top. I've found thats the easiest way to get a smooth mousse all the way around.

Once you've piped in the mousse, press two cranberry half spheres together to form a full sphere and shove it into the molds allowing them mousse to push up and around it. Flatten off the top with mousse and an offset spatula. Do this for all the apples in the mold and then freeze over night until solid.

Prepare your chocolate stems. Mix together cocoa and a bit of activated charcoal and dust heavily on a parchment lined baking sheet. Pipe melted chocolate onto this cocoa mixture in whatever shape/ size you want your stems to be. Dust the tops with more of the cocoa and leave to set.
Mirror Glaze
Once your apples are totally frozen solid, prepare your mirror glaze. Place your white chocolate in a medium sized bowl and set aside.

Bloom the gelatine in cold water and set aside. In a pot melt together the sugar, water and condensed milk.

Let this mixture come down to 60 C before adding in your gelatine. Whisk in the gelatine then pour this over the white chocolate. Use a hand blender to blitz until smooth.

Transfer 2/3 of the mirror glaze into a pitcher and add red gel dye. Transfer the other third into another pitcher and colour with activated charcoal.

Melt together a mixture of 50% cocoa butter and 50% white chocolate along with a spoon of chocolate food colouring (many regular colourings will split if you add them to chocolate). Skewer an apple and dip into the melted cocoa butter white chocolate mixture. It should set up in about a minute. Once matte and set, dip it into the mirror glaze. Let the excess drip off and transfer to a parchment lined tray. Repeat with all apples. Transfer the black mirror glaze into a squeeze bottle and drip it onto the apples. Stick the chocolate stems into the tops of the apples and transfer to the fridge. Let defrost for several hours before serving.
Video