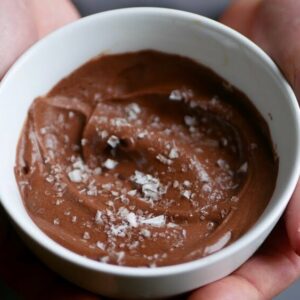 One Ingredient Chocolate Mousse
A Recipe for an Easy, Vegan Chocolate Mousse. All you need is 300 grams of dark chocolate to make this chocolate mousse. That and some elbow grease as you're going to have to whisk for about 5 minutes but it's worth it, trust me. It's a bit of a strange technique but super cool. Keep in mind that the chocolate mousse is made with 70% dark chocolate and basically nothing else so it's super rich and should be paired with something else like fruit, cream or ice cream to cut through the richness.
Ingredients
300

g

dark chocolate

250

ml

water
Instructions
Melt water and chocolate together in a pot

Pour melted chocolate into a bowl then place bowl into a larger bowl with ice in it and whisk until thick.
Video