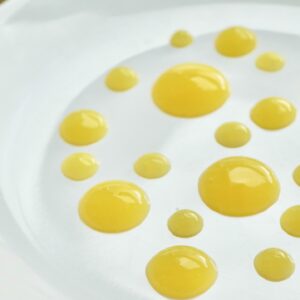 Orange Fluid Gel
Here's a quick and simple recipe for making this beautiful fresh orange fluid gel for plating. Serve this with savoury dishes to give a sweet balance to things like duck or use on or in desserts to elevate or compliment flavours. The texture of the gel is super smooth and the flavour is light and fresh.
Ingredients
500

ml

fresh orange juice, divided

25

g

sugar

30-50

ml

lemon juice

4

g

agar agar powder
Instructions
Juice fresh oranges until you have 500 ml of total juice. Pour 250 ml of the juice into a pot and reserve the remaining 250 ml for later. To the pot add in 25 grams of sugar and 4 grams of agar. Bring to a boil over medium heat for 1-2 minutes and remove from the heat. Add the juice of 1 lemon to the uncooked 250 ml of orange juice and then pour this into the cooked orange juice mixture whisking to incorporate.

Transfer to a shallow pan to cool in the fridge for 30 minutes. Once firm, transfer to a blender and blitz until smooth. Store in a container in the fridge for up to 5 days or transfer to a squeeze bottle for plating.
Video