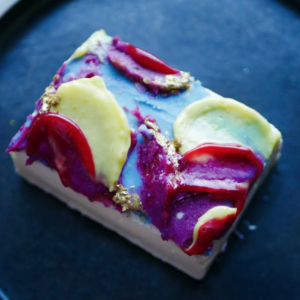 Painted Canvas Cakes
When I'm feeling down, I need to look outside of myself for inspiration. Art is a great place to look for ideas for new dishes. This painted canvas cakes is inspired by the art exhibits at the Modern Gallery of Art in Edinburgh.
Ingredients
Lemon Cake
240

g

all purpose flour

1 1/2

tsp

baking powder

1/2

tsp

baking soda

5

g

salt

150

g

butter

250

g

sugar

3

eggs

1

tsp

vanilla

160

ml

milk

3

tbsp

lemon zest

80

ml

lemon juice
Cream Cheese Mousse
200

ml

cream

180

g

cream cheese

75

g

sugar

1

tsp

vanilla

6

g

gelatine
Lemon Curd
4

lemons, zest and juice

200

g

sugar

100

g

butter

3

eggs, plus 1 yolk
Spirulina Butter Cream
85

g

butter

180

g

icing sugar

1

tsp

blue spirulina

1

tbsp

whipped cream
Blueberry Buttercream
85

g

butter

180

g

icing sugar

1

cup

blueberries

1

tbsp

whipping cream
Raspberry Gel
300

g

raspberries

125

g

sugar

125

g

water

3

g

agar agar
Instructions
Lemon Cake
In stand mixer, cream together butter, sugar, vanilla and lemon zest. Add eggs to creamed butter and sugar mixture one at a time until well incorporated.

In a bowl mix together the milk and lemon juice and set aside. In another bowl, mix together the dry ingredients- flour, baking soda, baking powder and salt.

Alternate between adding milk mix and dry mix until the batter comes together. Bake in a sheet pan at 175 C, 350 F for 15-20 minutes.
Cream Cheese Mousse
Whip cream in a stand mixer until it reaches soft peaks and set aside in a bowl. In a stand mixer, whip cream cheese, sugar and vanilla.

Bloom gelatine in a bowl of water. Once bloomed transfer gelatine to a small microwaveable container and cover with a few tbsp of water. Melt for about 10-20 seconds.

Whisk the melted gelatine into the cream cheese mixture then fold the whipped cream into the cream cheese and gelatine mix.

Using rectangular silicone moulds, pipe the cream cheese mousse in to fill about half of the mould. Cut your lemon cake to just under the size of the molds and push the individual piece of lemon cake into the mousse forcing the mousse up the sides of the mould. Smooth out the mousse on to of the cakes and transfer to the freezer.
Lemon Curd
Whisk together lemon zest, juice, sugar, eggs and egg yolk. Place over a double boiler and whisk continuously until thick. Add in the butter a cube at a time and allow to melt while whisking. Continue whisking until thickened again. Place in the fridge to set.
Spirulina Buttercream
In stand mixer fitted with paddle attachment whisk all the ingredients together until smooth.
Blueberry Buttercream
Place blueberries in pot over medium heat and allow to cook down until soft and jam like. Cool. Add cooled blueberry coulis to butter, sugar and whipped cream in a stand mixer and whisk together until smooth.
Raspberry Gel
Heat raspberries, sugar, agar and water in a pot over low heat. Bring to a boil for 1-2 minutes then strain the seeds out. Cool in the fridge until set. Place the set jelly into a blender and blitz until smooth.
Video