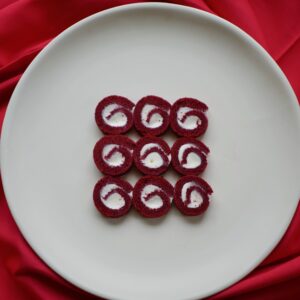 Red Velvet Cake Rolls
Mini red velvet cake rolls with cream cheese frosting.
Ingredients
Red Velvet Cake
100

g

(3/4 cups) all purpose or cake and pastry flour

30

g

(1/4) cup cocoa powder

1/2

tsp

salt

1

tsp

baking powder

4

eggs

150

g

(3/4) cup sugar

1

tsp

vanilla

1

tbsp

canola oil

1

tsp

vinegar

2

tbsp

sour cream

red food colouring
Cream Cheese Icing
113

g

(1/2) cup softened butter

113

g

(4 oz) cream cheese

250

g

(2 cups) icing sugar

(this can change depending on if your icing is too moist so just use your judgement)
Instructions
To start, sift 100 g or 3/4 cups of flour, 30 g or a 1/4 cup of cocoa into a bowl along with 1/2 tsp of salt and 1 tsp of baking powder. Mix and set aside.

In a separate bowl, crack in 4 eggs. Add in 150 g or 3/4 cups of sugar then whisk until the mixture becomes lighters in colour and slightly fluffy.

Now, add in 1 tsp of vanilla, 1 tbsp of vegetable oil, 1 tsp of vinegar and whisk again. Whisk in 2 tbsp of sour cream.

Then add the dry ingredients to your wet ingredients and combine. Finally, stir in your red food colouring.

Line a large sheet pan and spray with non stick cooking spray. Pour in your batter and bake for 10 minutes at 350 f or 175 C. Be careful not to over cook the cake or it will be impossible to roll.

For the icing get 113 g or 1/2 a cup of softened butter, 113 grams of 4 oz of cream cheese, and 2 cups or 250 grams of icing sugar into a mixing bowl. Add in a splash of vanilla and mix until combined.

Once the cake is cooked and cooled, gently remove it from the pan and use a knife to trim off the edges. Then, cut the cake into even rectangular quarters.

To assemble, spread a thin layer of the cream cheese icing onto your cake, then gently roll. I tried to use cling film to help guide it initially but it just ended up making the cake slide everywhere so I ended up just rolling the cake rolls on the table. Once you've got your roll, tightly cling film it to create a perfect cylinder. And repeat with the other three quarters of the cake.

Place the wrapped cake rolls into the freezer to firm up before slicing. Once the rolls are chilled and firm, all that's left to do is slice and serve.