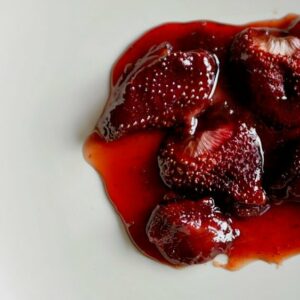 Slow Roasted Strawberries
Here's a recipe (kind of) for slow roasted strawberries.
Instructions
The flavour in these things is super concentrated by the time you serve them and I'm going to be making these a lot in the summer when strawberries come into season! All you need to do is cut the tops of some strawberries, place them into a roasting pan, cake pan or the like, coat them in sugar and bake at 300F for about 3 hours until the strawberries are a dark burgundy and the syrup has thickened. I'm serving mine with greek yogurt but you can serve these with ice cream , as part of a plate or dessert or on a charcuterie board. They are crazy delicious and the flavour is super powerful. They taste like how jam smells when it's cooking if that is a good enough example haha.
Video