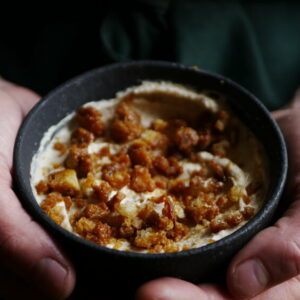 Caramel Bread Mousse
This recipe uses stale bread scraps to create a toast and caramel mousse dessert, taking something that would have normally been thrown away and giving it a second life.
Ingredients
Bread Mousse
300

g

milk

100

g

toasted bread

600

ml

cream

150

g

powdered sugar
Caramelized Bread Crumbs
100

g

bread crumbs

30

g

brown sugar

100

g

white sugar

50

g

butter
Instructions
Bread Mousse
To start, you'll need 100 g of stale bread. Cut it up roughly into cubes and toast in your oven at 180 c or 350 f until golden. Add 300 grams of milk to a pot along with your toast bread. Cook on low until all the milk is absorbed and the bread has gone completely soggy. Remove from the heat and pour in 600 ml of heavy cream. Transfer to a container and refrigerate for a minimum of 1 hour.

Once cool, blitz the bread mixture until smooth then pour through a strainer. Transfer the liquid to a stand mixer and whip. Once soft peaks have formed, add in 150 g of powdered sugar and mix through. Transfer the toast flavoured whipped cream to a bowl and set aside.

Add 2 egg whites to a mixing bowl and whip until light and fluffy. Then gently fold the whites into the whipped cream in three additions and refrigerate.
Caramelized Bread Crumbs
For the caramelized bread crumbs, dice 100 grams of stale bread. In a pan on medium heat, add in 50 grams of butter, 100 grams of sugar and 35 grams of brown sugar. Then add your bread crumbs.

Stir occasionally for 5-10 minutes until the bread is dark and caramelized then transfer to a a parchment lined pan to cool. Once cool they will candied and crunchy. I chopped mine up into small crumbs but you can pulse them in a robot coupe or blender. All that's left to do is to serve up the mousse… and top it with the caramelized bread crumbs.
Video