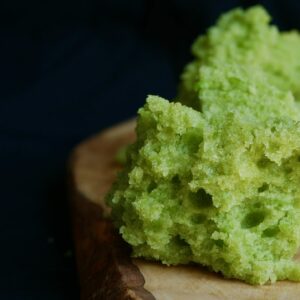 Sweet Pea Microwave Sponge Cake
A recipe for a vibrant, naturally green, sweet pea microwave sponge cake. You can make this cake without a whipping siphon without any issues. The batter would be too thick to use a whipping siphon anyway but since it's just a regular microwave sponge, you aren't getting that same fluffy aeration.
Ingredients
200

g

butter

150

g

sugar

2

tsp

vanilla

275

g

pea puree

250

g

all purpose flour

2

tsp

baking powder

1

pinch

of salt
Instructions
To start, you'll need 275 grams of fresh or frozen peas. Blanch them in boiling water for 1-2 minutes then strain.  Transfer the peas into a bowl and use a hand blender to blitz until smooth.  If you have a food processor or better blender, feel free to use that instead as you'll probably get better smoother results. Once the peas are smooth, set aside.

For the rest of the cake, melt 200 grams of butter. Pour that into a bowl and add in 150 grams of sugar and  2 teaspoons of vanilla, then whisk to combine. To that add 3 whole eggs. And whisk again. Then, whisk in the pea puree. 

In a separate bowl, measure in 250 grams of all purpose flour.  2 tsp of baking powder and a pinch of salt. Stir this together then add to the wet ingredients and mix until smooth and combined. 

To microwave.  Coat the inside of a disposable coffee cup with non stick spray. Stab a few holes in the bottom of the cup. Fill the cup half way with batter, then microwave for 1-2 minutes.  The timing depends on your microwave so consider your first cup of batter a bit of a test run.  Once cooked, place the cup upside down on a plate for a couple of minutes to set, then, tear up the cake and serve.  

This recipe doesn't require a whipping siphon and would be too thick to use one anyway but because of this the finished microwave sponge isn't as aerated.

Also, the thing about microwave cakes in general, I know they're cool and it's a neat technique but I've never had one that tastes as good as traditional cake.  It's always a bit eggy tasting and dries out really fast so I tend not to do them for service at all anymore.  Instead, I just use this same batter, though instead of melting the butter I just cream it with the sugar, and bake it at 325F 160 C for about 35 minutes.  While the colour isn't as vibrant as the microwave sponge and it takes a little longer, the flavour is much better. 
Video