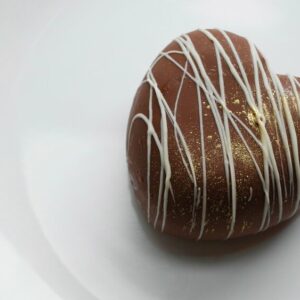 Agar Agar Chocolate Mousse Hearts
Plant based chocolate and raspberry mousse hearts. Perfect for your sweetheart.
Ingredients
Raspberry Gelée
300

g

raspberries

2

tbsp

sugar

2

g

agar agar powder
Plant Based Aquafaba Chocolate Mousse
200

g

chopped dark chocolate

500

g

coconut cream

2

g

agar agar powder

100

ml

aquafaba (water from chickpea can)

4

tbsp

sugar
Chocolate Coating
dark chocolate

cocoa butter

vegan white chocolate for drizzle
Instructions
Raspberry Gelée
In a pot, combine raspberries, sugar and agar powder. Cook over medium heat until raspberries break down and mixture begins to boil. Allow the gelée to boil for a minimum of 1-2 minutes. This is an important step as agar needs to be boiled thoroughly in order to set properly. Pour the gelée into an unlined pan or cake tin, jiggle the pan slightly to ensure the gelée is distributed evenly and cool in the refrigerator until set. Once set, use a small circular cutter to cut out rounds of gelée. Place the rounds on a parchment lined baking sheet and return to the fridge.
Vegan Chocolate Mousse
Chop chocolate and set aside in a heat proof bowl. In a pot over medium heat combine the coconut cream and agar agar powder. Bring to a rolling boil for 1-2 minutes then pour over the chopped chocolate. Whisk until well combined and all of the chocolate has melted and been incorporated. Set aside until it reaches room temperature. Once the chocolate and coconut mixture has reached room temperature, whip in a stand mixer for 5 minutes to give it a lighter and fluffier texture. Set aside while you make your aquafaba meringue.

In the bowl of a stand mixer, whip 100 ml of the chickpea water from a can of chickpeas, also called aquafaba until it reaches soft peaks. Aquafaba takes longer than egg whites to form fluffy meringue like soft peaks so let your mixer go for about 10 minutes. Once soft peaks have formed, add in 4 tbsp of sugar while continuing to whip. After you've added in your sugar, fold the meringue into the chocolate mixture in three additions then transfer to a piping bag.

In heart shaped silicone molds pipe the mousse 1/3 of the way up each heart then place a round of the raspberry gelée on top of the mousse. Cover this with another layer of mousse, then top with another disc of gelée, then, cover this and fill the molds to the top with remaining mousse. Set in the freezer overnight until completely frozen solid.
Chocolate Coating
Melt together a mixture of roughly 3/4 dark chocolate and 1/4 cocoa butter. The cocoa butter will thin out the chocolate and give the coating a really thin crispy texture that is easy to eat. Take your frozen mousse hearts and dip them in the chocolate. Once starting to set, place them on a parchment lined baking tray and drizzle with some melted white chocolate. Dust with edible gold if desired.
Video